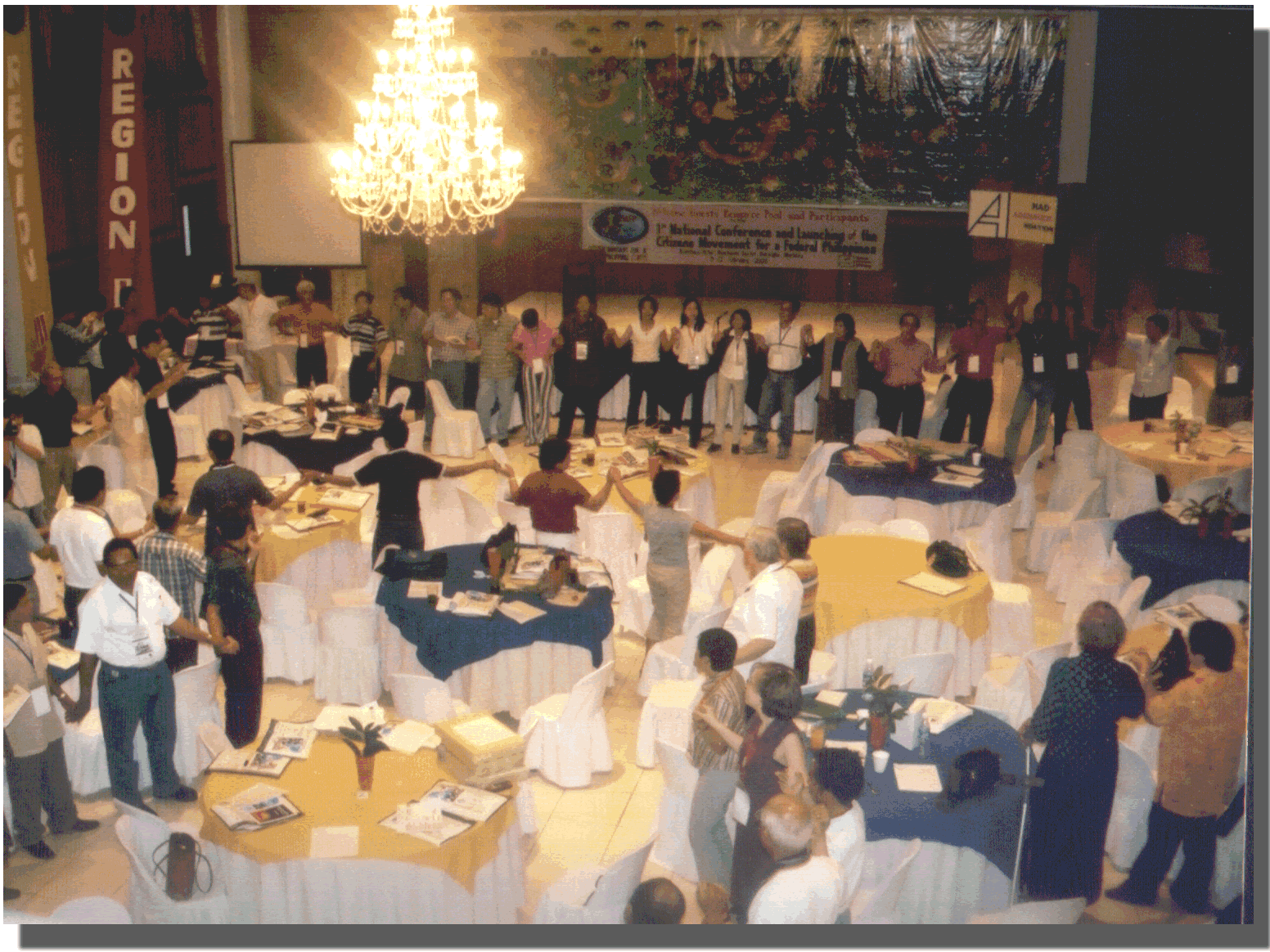 CMFP goes NATIONAL
Some 300 federal advocates from all over the country attended the 1st national conference and launching of the Citizens' Movement for a Federal Philippines (CMFP) held February 21 to 22 at the Riverbend Hotel, in Marikina City. Some National personalities were also on hand, leaders from Local Government Units, Peoples' Organizations, Non-Government Organizations and Civil Society graced the said event. Among them were Alliance for Constitutional Change chair Marietta Goco, Former Senator Vicente Paterno, Economist/Businessman Sixto Roxas, Akbayan National Chair Joel Rocamora, Philippine Councilors' League Chair Atty. Froilan Melendrez, Institute for Political and Electoral Reform Executive Director Mon Casiple and Senator Aquilino Pimentel, Jr..
Foreign experts headed by Dr. Ron Watts and Ms. Susan Stigant of Canada and Dr. Judy Tyers of Australia, all of the Forum on Federations, were also present to strengthen the argument of federalizing the country through their country-experiences.
Among the highlights of the said affair was the presence of local homegrown artists led by Gary Granada, Joey Ayala, Cooky Chua, Bayang Barrios, and Noel Cabangon, who came not only to perform but to be participants as well. Mr. Gary Granada who hails from Mindanao showed his support to the movement through "Sambayanan," the CMFP themesong, which he himself wrote wrote and arranged
Cookie Chua, Bayang Barrios, Gary Granada, Joey Ayala and Noel
Cabangon as they Sing "Sambayanan," the CMFP themesong
An Engagement with Political Destiny

  CMFP National Convenor and Chairman Rey Magno Teves in his keynote address said that Federalism is definitely on its way. 
  One promise of a federal form of government   he said, is a more equitable distribution of resources and power against the 
  unitary mode of government which has been one of the root causes of insurgency.   With Federalism as a political move, 
  Teves noted that the movement should be   citizen-led, although politicians are very much welcome, they (the politicians)   
  should keep in step and learn of the importance of the voice of the people.   The time has come, he said, for Federalism to be 
  put in place.

  Former UP President and now Kalayaan College President, Dr. Jose Abueva supported   Teves' statements by saying that broad
  consultations have produced the federalist   perspective that is currently being advocated. Abueva formulated five desires 
  as to why Federalism should be adopted: to bring about lasting peace; empower   the people through direct participation; 
  reduce corruption; hasten development   and broadendemocracy. "The clear challenges for both the parliamentary   and the 
  federalist perspective then, is the realization of these desires,"   he added.

Ms. Susan Stigant and Dr. Ron Watts of the Forum on
Federations with Dr. Willibold Frehner, former Country 
Representative of the Konrad Adenauer Foundation. 
Goals
CMFP Secretary General Socrates Banzuela said that the movement projects to have at least 1 million card-bearing members by the year 2010. He added that distribution of informative materials such as books, magazines, streamers and newsletters will be intensified as part of the movement's massive education campaign to increase awareness on the advocacy. Signature campaigns, as well as tapping the world wide web through uploading information on the newly launched CMFP website is also part of the groups lined up activities.-DIO